Research assistants/students:
Current status: Please contact Dr. Chung if you want to discuss joining the lab in the future.
Description: In the lab, students receive hands-on training in all aspects of conducting research projects, particularly community-based and longitudinal research. This includes meeting with community partners, recruiting participants, conducting face-to-face interviews with young adults, data entry/analysis, and presenting research findings. Students will also become familiar with research on youth and young adult development and learn about factors that shape behavior, motivation, and attitudes during the transition to adulthood. Every semester, the lab is composed of 6-10 motivated and hard-working students with diverse interests in Psychology, Sociology, Criminology, Public Health, Public Policy, and other areas of study.
There are multiple ways to get involved. All options require permission of the Lab director.
– PSY 390 (Collaborative Research)
– PSY 492 (Senior Collaborative Research)
– PSY 393/396/493/496 (Independent Study and Senior Honors Thesis)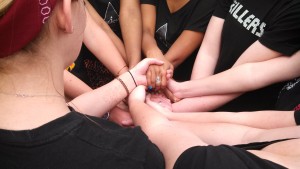 For more information, contact Dr. Chung at chung@tcnj.edu or 609.771-2646.